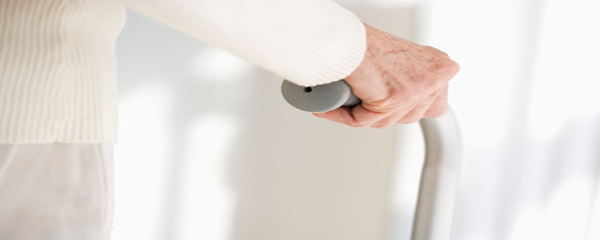 "LIFE AND DEATH IN ASSISTED LIVING"
Produced by: FRONTLINE, ProPublica.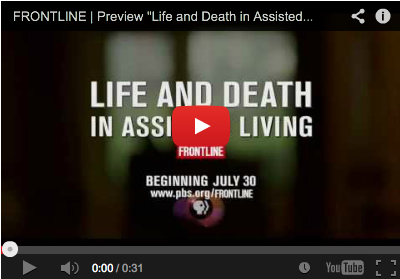 "More and more elderly Americans are choosing to spend their later years in assisted living facilities, which have sprung up as an alternative to nursing homes. But is this loosely regulated, multi-billion dollar industry putting seniors at risk? In a major investigation with ProPublica, FRONTLINE examines the operations of the nation's largest assisted living company, raising questions about the drive for profits and fatal lapses in care..."With America's population of seniors growing faster and living longer than ever before, more and more families are turning to assisted living facilities to help their loved ones age in comfort and safety. But are some in the loosely regulated, multibillion-dollar assisted living industry putting the lives of those loved ones at risk?"
source:FRONTLINE
"Assisted living facilities are designed for elderly people who want to maintain their independence, need help with daily activities like showering, dressing and cooking, but don't require the intense level of medical care provided in nursing homes. The facilities are often composed of apartments and common areas meant to look like someone's home."
-forbes.com
---
"THE WAITING ROOM"
Produced by: Linda Davis. Directed by: Peter Nicks.
"The Waiting Room is a character-driven documentary film that uses extraordinary access to go behind the doors of an American public hospital struggling to care for a community of largely uninsured patients. The film - using a blend of cinema verité and characters' voice over - offers a raw, intimate, and even uplifting look at how patients, executive staff and caregivers each cope with disease, bureaucracy and hard choices. It is a film about fighting for survival when the odds are stacked against you."
-imdb

"At this moment the health care debate voices are dominated by journalists and politicians and pundits...this is the voice of the people on the front lines." -abcnews.go.com
The documentary film 'The Waiting Room' covers '24 hours. 241 patients. One stretched ER.'

"A provocative new documentary, 'The Waiting Room,' is a snapshot of Highland Hospital in Oakland, Calif., one of the nation's busiest safety-net hospitals, which is stretched to the limit with 241 patients a day, mostly uninsured, who need medical care they can't afford...'The Waiting Room' will also be aired by PBS in 2013."
source:abcnews.go.com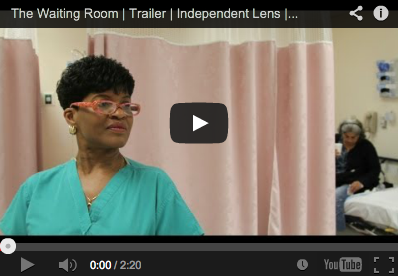 ---
"FOUR PAWS TWO HEARTS"
Produced and Directed by: Ashley Bishop.
"Pet therapy is an animal such as a cat, dog, monkey, or pig that is certified to go into nursing homes, hospitals, schools, and facilities of that sort and basically interact with the patients there,... I have seen pet therapy work before in my own family with my grandfather and it just was something that I thought would make a good documentary."
-Producer, Director Ashley Bishop.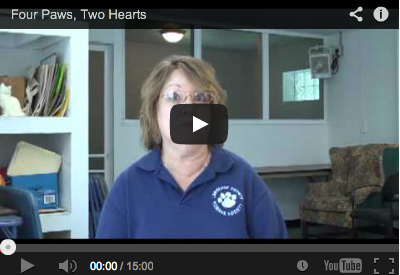 "4 Paws, 2 Hearts" displays the importance of therapy dogs for elderly and handicapped people.  Bishop worked with the Lawrence County Humane Society and traveled to local assisted living homes and hospitals to obtain the information for the documentary 'Four Paws Two Hearts'.
source:abishop32.tumblr.com
---
"THE REMAINING LIGHT - A FILM ABOUT HOW WE CARE FOR SENIORS"
Directed by: Goh Iromoto.
Produced by: The Canadian Centre for Policy Alternatives (CCPA) and the Hospital Employees' Union.
"'The Remaining Light' journeys through an often invisible part of Canada's health care system - the community-based services that provide care to seniors as they age and die. The film features the stories of seniors and their families, and explores themes of dignity, preventing illness and social isolation, and keeping health care costs under control as the boomer generation ages. 'The Remaining Light' is set in British Columbia, where the province's Ombudsperson is carrying out an investigation into a fragmented and underfunded system of seniors care. But the film's themes and stories will resonate with people across Canada who worry that we are not providing seniors with the dignity and respect they deserve."
The Canadian Centre for Policy Alternatives (CCPA) website has additional links to purchase a DVD of the film and a film screening tool kit with a facilitator's discussion for the documentary, 'The Remaining Light.'
source:policyalternatives.ca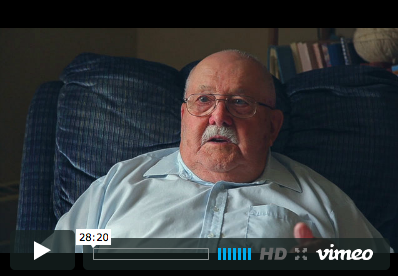 ---
"FRONTLINE: LIVING OLD"
Produced by: FRONTLINE. Miri Navasky.
Video of Chapter 3 in the Living Old Series: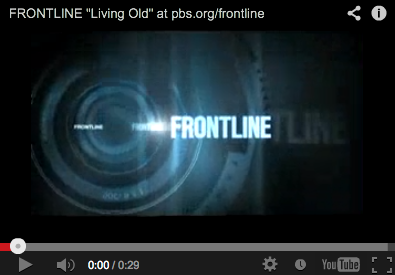 "Vast numbers of our elderly are living lives that neither they nor their families ever prepared for or imagined. Through the perspectives of the elderly, their families and the doctors and nurses who care for them, 'Living Old' explores the modern realities of aging in both urban and rural America. The hour-long documentary takes viewers on an intimate and powerful journey that raises new and troubling concerns about what it really means to grow old. In 'Living Old,' FRONTLINE investigates this national crisis and explores the new realities of aging in America."
source:FRONTLINE
---
"LONG SHADOWS: STORIES FROM A JEWISH HOME"
Directed by: Kate Hampel. Produced by: Melanie Coombs.
"Long Shadows: Stories From A Jewish Home" examines the implications of caring for ageing survivors of the Holocaust. The largest population of Holocaust survivors, per capita, outside Israel lives in Melbourne, Australia.

"These survivors are facing death and isolation for the second time, as they make the traumatic transition to an aged care facility. Dementia, memory loss and physical immobility contribute to a splintering of identity. Removed from their homes, their familiar routines, their families and the outside community, past horrors come flooding back."
source: roninfilms.com.au
---
"IS ASSISTED LIVING THE ANSWER"
Produced by: Trading Places: Caring for Your Parents Series" NBC News.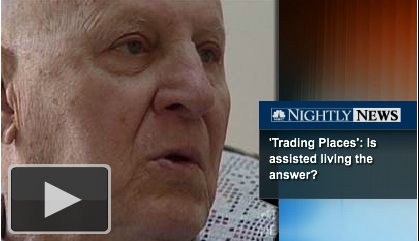 "(NBC's) series on caring for parents continues with the story of a Florida woman struggling to decide with her parents what to do next. After they share their story, Dr. Marie Bernard, director of the Oklahoma Geriatric Education Center, offers practical advice for millions who face a similar situation."
source:nbcnews.com
---
"GET REAL: INSIDE NURSING HOMES SINGAPORE"
Produced by: Get Real. Channel NewsAsia.

"Young, under-paid and from a foreign land, they're made to work long hours. Now they're in the limelight for the ill-treatment of a resident at a nursing home. Get Real hears it from the people who work at nursing homes. Is it fair that we pin all the blame on them?"
-youtube.com






---
"RAGE AGAINST THE DARKNESS"
Produced and Directed by: John Kastner
"The first installment of this three-part series introduces two elderly sisters, 'Bunny and Leona,' who are separated into different nursing homes after 30 years of living together. Their transition and emotional rollercoaster are documented. The second part of the series follows Gert Stevenson, a positive, bright nursing home resident and the details of the relationship with her daughter. The final part tells the story of two seniors Phillip Rowley and Helen Beck who continue to live alone at home rather than move into facilities. Both have compromised health conditions and have had close calls, worrying family members. Some of the films accolades include: -Winner, Best Canadian Feature Documentary Award, 2003 Hot Docs Canadian International Documentary Festival -Finalist, 2003 Prix Italia, Siracusa Italy -Winner, Silver Chris Award ,2003 Columbus International Film and Video Festival -Official Selection, 2004 Input in Barcelona."
source:cbc.ca
---
"ALMOST HOME"
Produced and Directed by: Independent Lens. Brad Lichtenstein and Lisa Gildehaus.
"A feature-length documentary that follows the daily lives of residents and staff at Saint John's On The Lake, a retirement community in Milwaukee, Wisconsin. Through a memorable cast of characters, candid interviews and true-life drama, ALMOST HOME presents real stories of aging—frightening, tender, funny, surprising and honest…the film makers introduce couples bonded and divided by disability, children torn between caring for their dependent parents and their own families, nursing assistants doing difficult work for near-poverty wages and visionary nursing home director John George, who is committed to transforming his century-old hospital-like institution into a true home."
source: Independent Lens
Watch Video of "Almost Home"
---
"EXCELLENT EDUCATIONAL TRAINING VIDEOS FOR NURSING FACILITIES"
Produced by: Video Press - Med School Maryland Productions.
Video Press - Med School Maryland Productions is a national distributor of health-related videos and is an excellent source of continuing education that may be shown to nursing home administration and staff.
Videos document a large range of topics from how to deal with sexual activity in nursing homes, to dealing with abusive residents and much more.

The resident's perspective is widely represented.

Visit their website to preview or purchase programs on:

* Alzheimer's Disease
* Elder Abuse Prevention in Nursing Hmes
* Perspectives of the Elderly
* Care Competencies
* LTC Challenges
* End of Life Care
---