THE LIVING HISTORY PROJECT
Produced and Directed by: Eric Freedman and Geri Alumit Zeldes –PH.D.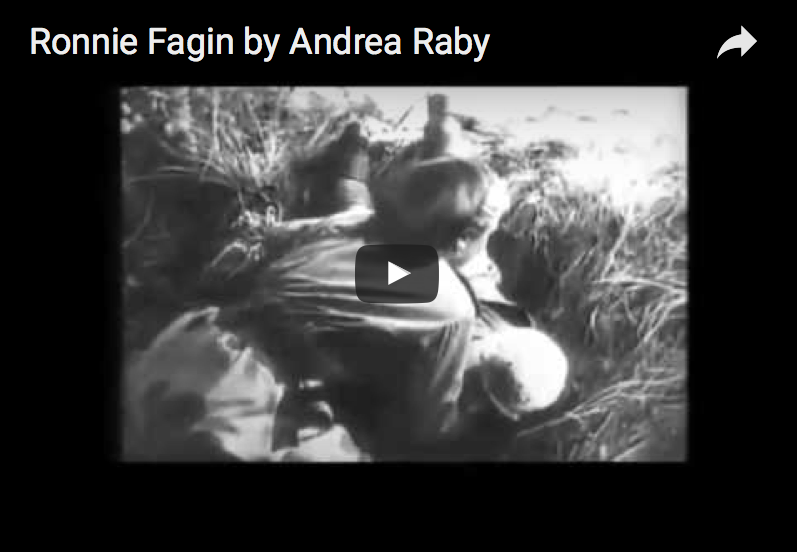 The Living History Project is a mini-documentary series on Michigan's senior residents by Michigan State University students and professors Geri Alumit Zeldes –PH.D. and Eric Freedman. The documentary details the life experiences of seniors and received a regional Emmy nomination in the Historical Documentary category. Stories can be downloaded on itunes or viewed on YouTube.

" 'The Living History Project: Stories Told by Michigan's Oldest Old' is a multimedia initiative that includes 15 short videos and four radio stories that aired on WKAR 90.5 FM, the NPR affiliate in East Lansing. The project profiles members of the oldest old, individuals who are 85 years old or older, to provide a window to the state's rich cultural history and to gain an understanding of the thoughts of these older adults on their longevity, resilience and quality of life."

"…stories capture historical events that influenced the lives of a dozen other oldest old members - a World War II Veteran, a Holocaust survivor, a leader in Detroit politics and others."
source: livinghistoryprojectmi.com
---
THE PASSAGE OF TIME
Produced and Directed by: David Habif.
"Full length documentary about growing older. Opinions of men and women of all ages share their views on various aspects of aging." –vimeo.com

"The Passage of Time is a very personal look into the perspectives of real individuals in regard to the subject of growing older. The subjects who participated in these conversations range in age from 12 to 101. Differences in family, social relationships and upbringing are addressed in the beginning of the film. Later both the positive and negative aspects of aging are addressed. The subjects express their fears as well as the joys that can be experienced in old age."
imdb.com
---
AGELESS
Produced and Directed by: Heather Gwaltney.

' Ageless' looks at the topic of ageism and women.
"Each day women receive messages from the media and advertising that they are not young enough, sexy enough or good enough. In the documentary 'Ageless,' hear from women of all ages about the affects of these daily messages. Is our country telling us that it's not okay to age - something that starts the moment we're born? -And why is it that women start feeling invisible in their 40's?"
source:agelessthemovie.com
---
THE AGE OF LOVE
Produced and Directed by: Steven Loring.
" 'The Age Of Love' follows the humorous and poignant adventures of a group of seniors in Rochester, NY who sign up for a first-of-its-kind speed dating event for 70- to 90-year-olds. Forced to take stock of life-worn bodies and still-hopeful hearts, they find themselves confronted by the startling realities of seeking new relationships at an unexpected time in life."
source:theageoflovemovie.com
---
DOCUMENTARY:THE RETIREMENT GAMBLE
Produced by: Frontline PBS.
"If you've been watching any commercial television lately, you are well aware that the financial services industry is very busy running expensive ads imploring us to worry about our retirement futures. Open a new account today, they say. They are not wrong that we should be doing something: America is facing a retirement crisis. One in three Americans has no retirement savings at all. One in two reports that they can't save enough. On top of that, we are living longer, and health care costs, as we all know, are increasing. But, as I found when investigating the retirement planning and mutual funds industries in 'The Retirement Gamble' which airs tonight on FRONTLINE, those advertisements are imploring us to start saving for one simple reason. Retirement is big business - and very profitable."
Martin Smith -pbs.org
---
DOCUMENTARY:HUNGRY IN THE WEST END- AN EIGHT PART SERIES ON SENIOR HUNGER
Produced by: John Martin.
Funded by AARP Foundation Drive to End Hunger.

"…Isolated seniors by definition are difficult to find, that's one of the big takeaways, and people are reluctant to offer themselves up as examples of poverty or hunger. Some people we talked to declined to go on camera but others did, and we learned a lot from people who are feeding the hungry in the West End and other parts of Providence. They all agree on one thing, senior hunger is a problem and it is getting worse."
Video: Hungry in the West End Episode 1: The Growing Problem

" 'Hungry In The West End' is an intimate look at senior hunger in a tough Rhode Island community."
-aarp.org
Senior Hunger and Elderly Malnutrition Programs
---
DOCUMENTARY:LEFTOVERS
Directed by: Seth Hancock.
Supported by: Meals on Wheels Research Foundation.

"…There are Americans in this county who are 60 years of age and older who are going hungry and this is the richest nation on earth…they don't have the funding to buy the food, buy their medicine, pay their rent and pay their utility bills…they have nothing left over, nothing left over for food…six million seniors going hungry every day is a national disgrace."
-leftoversmovie.com

" 'Leftovers' is a very important documentary on senior hunger couldn't have been made without the support of the Meals on Wheels Research Foundation."
-- leftoversmovie.com
Senior Hunger and Elderly Malnutrition Programs
---
"DOCUMENTARY:KINGS POINT"
Produced by: Sari Gilman, Jedd Wider, Todd Wider, HBO Documentary Films.
Directed by: Sari Gilman.

"It is a film that can break through the denial of aging and death that is so pervasive in our culture. As Americans, we are afraid to talk about the reality of what happens in later life, so much emphasis is placed on 'active' retirement, self-reliance, and staying independent."
-kingspointmovie.com

"With Kings Point, director/producer Sari Gilman tells the stories of five seniors living in a typical American retirement resort men and women who came to Florida decades ago with their spouses by their sides and their health intact, and now find themselves grappling with love, loss, and the universal desire for human connection. Shot over the course of 10 years, Kings Point is a bittersweet look at our national obsession with self-reliance, exploring the dynamic tension between living and aging while underscoring society's powerful ambivalence toward growing older."-kingspointmovie.com

"In the 1970s and 80s, hundreds of thousands of senior citizens migrated from New York City to Kings Point, a typical retirement community, located just outside West Palm Beach, Florida. Lured by blue skies, sunshine, palm trees, and the promise of a rich social life, they bought their way to paradise for just a $1,500 down payment. Now, as an aging community faces its own mortality, paradise has begun to exact a higher price. Through the experiences of six longtime residents, 'Kings Point' captures both the allure and the darker complexities of living in a world where 'nobody gets too close.' Poignant, funny and dark, 'Kings Point' is a deeply empathetic portrait of the last act of the American Dream.".-imdb.com

'Kings Point" was nominated for an Academy Award for Best Documentary Short and was the Winner - Grand Jury Prize for both the Sterling Award for Best Short Film along with the Silverdocs Documentary Festival 2012.
---
DOCUMENTARY:THE 100+ CLUB
Produced by: Margie Brown.
Directed by: Mandy Lake.

"We believe actually the '100+ Club' is the only club of its type in the world today."

"What's the secret to longevity...work hard and don't complain about it."
- The Film: 'The 100+ Club'
ns, 'The 100+ Club,' has

"The world's only social club for centenarians has some remarkable members on its books. At a time in their lives when most people have long given up on chasing dreams, Ruth, Olive, and Dexter are on a mission to complete some unfinished business. Ruth, the planet's oldest competing athlete is out to break her own world throwing records, all-round entertainer Olive is determined to stage one last performance, while outback author Dexter hopes to finish his sixth and last book. Most centenarians insist they're not terribly special 'age is just a couple of numbers on a piece of paper' but as 'The 100+ Club' reveals, there's nothing at all ordinary about this group of Australians."
source: facebook.com/100plusClubdoco
---
DOCUMENTARY:CUT BACK:FACING AGEISM
Produced and Directed by: Patricia Sahertian.
"They replaced me with a younger individual."
"It makes you kind of draw back inside of yourself and just start thinking, what am I worth, what is my value. Its brings depression on, it makes life very, very misearable."
- Cut Back, The Film.
" 'Cut Back:Facing Ageism,' brings to light the often subtle and the not so subtle sting of ageism. With her focus on the workforce director Patricia Sahertian takes a look at a diverse group of people across the nation who have been affected by age discrimination. In their own words, they tell their personal story about how ageism has touched their lives. 'I am grateful to the people who agreed to participate in this film. They show an amazing spirit and resilience,' said Sahertian. The stories are interspersed by comments from lawyers, advisors, employment specialist and many more who are trying to make a difference about the effects of ageism."
source:cutbackmovie.com
---
DOCUMENTARY:TOO OLD TO WORK
Produced and Directey by: BBC, Film 4, Dispatches.
"With the number of unemployed in the UK nudging two million, Dispatches reveals the ageism rife amongst employers and recruitment agencies. The investigation reveals that being 'older' - even just over 45-years-old - is a risk in the workplace. Older workers are more likely to lose their jobs and fail to secure another position. The programme looks at the challenges facing older job seekers and how the mandatory retirement age, introduced in 2006, has forced tens of thousands out of their positions, against their will. Dispatches also features the results of two exclusive YouGov surveys on attitudes towards older workers and the effects forced retirement can have on those still wanting to work."
source:www.channel4.com

---
DOCUMENTARY:LETS FACE IT: WOMEN EXPLORE THEIR AGING FACES
Produced and Directed by: Wendy Oser, Joan Levinson, Beverly Spencer.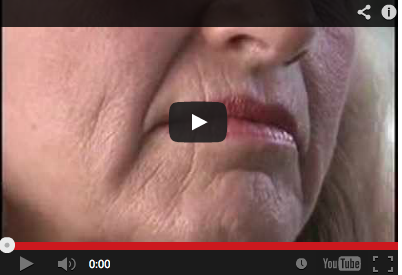 "Seven articulate women, age 45 to 63, speak openly, honestly and with wry humor on the reality of the sags, bags and wrinkles on their faces while watching themselves on videotape. As they reveal feelings of ambivalence, vanity, and anxiety to each other, their attitudes toward aging move toward acceptance.

Odil is offended by the cultural aesthetic bias against aging. Aspasia notices all the changes that contrast with her inner picture of herself, while Beverley wishes she had appreciated her looks as a young woman. Carole is pleased at the outcome of cosmetic surgery, and Wendy thinks she looks just fine for her age most of the time and her status of grandmother. The women uncover the sources of their assessments: family judgments, comparisons with siblings, teen-age competitiveness, and the unrelenting messages of an advertising/media culture that emphasizes youth as the epitome of beauty. In the same way that young women in the 1970's started to examine their feelings about being female in America, three decades later this same finds that frank talk helps them develop a personal balance at the stage when they are threatened with invisibility. After two years each woman discovers she has developed a personal "philosophy" of how she would like to age. Each one knows her attitudes may change in any direction but all find the process itself is enlightening and full of comfort.

The film serves as a model for individuals and groups as we shift away from acceptance of the culture's emphasis on youth to a broadening of what is an 'attractive woman.' Women are grateful for this help in liberating themselves from the longing to look forever young."
source: amazon.com
---
DOCUMENTARY:TO AGE OR NOT TO AGE
Produced and Directed by: Robert Kane Pappas.

"If we can postpone aging, should we? Or are we arrogantly challenging the laws of nature? Where does evolution fit in?"

source: www.toageornottoage.com
"The paradigm shift is that aging and death are not the absolutes we once thought they were. Important breakthroughs in cell biology and our understanding of genetic hierarchies suggest that the body can be stimulated to slow down the aging process in an elegant and simple way. It all comes down to keeping our cellular repair mechanisms in working order. That this can be done no longer seems in doubt...The only real question nowadays is 'For how long?' The Human condition, as we know it, is up for grabs – as extended life (and fertility) remap all our notions about human development, success and freedom."
source: toageornottoage.com
---
DOCUMENTARY:LIFE'S WALTZ
Produced and Directed by: Jared Scheib and Ashley Michael Karitis.
"Through their stories, Betty, Bob, Dorothy, and David show us that old age is nothing to fear—it can be as wonderful as any other time in our lives."
We first meet Betty, who finds joy and purpose in playing the piano, gardening, and making the most of each day as a widow at her retirement community. In the same community, we meet Bob and Dorothy, a married couple with a unique sense of humor about anything from their transition to retirement living, their health decline, and their love for one another. Meanwhile David, living outside a retirement community, claims to be a '25-year-old inside of a 77-year-old's body.' While commemorating his late wife, he offers a profound perspective on love and loss as we age."
source:snagfilms.com
---
DOCUMENTARY:ACTING OUR AGE
Produced by: Deanne Edwards, Directed by: Gurinder Chadha.
"This humorous and thought-provoking film documents the residents of a South Asian home for the elderly in Britain. Director Gurinder Chadha assists the residents in directing their own video. The result is an examination of politics, ageism, and cross-cultural communication in contemporary British society. Interview subjects range from people on the street to Members of Parliament. The film ends with the triumphant screening of the group's film."
source:third world newsreel.
---
DOCUMENTARY:THE GRAND GENERATION
Produced by: Marjorie Hunt, Paul Wagner, and Steven Zeitlin - Folkstreams.
"Folklorist Steve Zeitlin comes this warm portrait of six elderly Americans whose vigor belies their age. Three are folk artists, one a baker, one a political activist, and one a bayman on the Chesapeake. Though they remember the past, they still relish the present and life it fully." source: folkstreamer, youtube.
---
DOCUMENTARY:GETTING AROUND - ALTERNATIVES FOR SENIORS WHO NO LONGER DRIVE
Produced by: The AAA Foundation for Traffic Safety. Wiland-Bell Productions.
"As our elderly population grows, so does the need to find mobility solutions that work. In response to The 2003 Santa Monica Farmer's Market tragedy, Monika White, CEO of the Santa Monica-based, non-profit Center for Healthy Aging enlisted the award-winning documentary film company Wiland-Bell Productions in a national effort to educate Americans about planning for the day when driving is no longer feasible. The result is the 30-minute documentary "Getting Around—Alternatives for Seniors Who No Longer Drive," and this companion website. Both are dedicated to successfully maintaining elders' mobility---and the safety of all of us---by focusing on when its time to give up the keys, helping at-risk elders transition to life-after-driving, and expanding everyone's travel options through improved public transportation and new models for mobility."
source: getting-around.org
---
DOCUMENTARY:HOW TO LIVE FOREVER
Produced and Directed by: Mark Wexler.

"Director Mark Wexler embarks on a worldwide trek to investigate just what it means to grow old and what it could mean to really live forever. But whose advice should he take? Does 94-year-old exercise guru Jack LaLanne have all the answers, or does Buster, a 101-year-old chain-smoking, beer-drinking marathoner? What about futurist Ray Kurzweil, a laughter yoga expert, or an elder porn star? Wexler explores the viewpoints of delightfully unusual characters alongside those of health, fitness and life-extension experts in this engaging new documentary, which challenges our notions of youth and aging with comic poignancy. Begun as a study in life-extension, 'How To Live Forever,' evolves into a thought-provoking examination of what truly gives life meaning."
source: liveforevermovie.com
---
DOCUMENTARY:THE ART OF AGING
Produced and Directed by: Leaping Media.

The "Art of Aging" covers three main areas of aging:
Episode 1: Bones and Brains Episode 2: Sexuality, Menopause, Andropause Episode 3: Caregiving, Community, Diabetes.

"A new generation of maturing adults has a chance to learn from poor health practices of the past. Obesity, lack of exercise and mental stagnation have been some of the culprits of unhealthy aging in the recent past. Now, new research promises more effective strategies for aging well. The role of physical activity, maintaining strong bones and engaging in social and intellectual interactions top the to do list for upcoming generations."
source: artofaging.org
---
DOCUMENTARY:THE ELDERS - A COMING OF AGE DOCUMENTARY PORTRAIT SERIES
Produced and Directed by: Nathaniel Hansen.
"A feature-length documentary, 'The Elders' uses stylized interview portraits of elderly individuals to tell a universal story about life's most important lessons. Thematically organized around life lessons that reflect a wide range of human emotion and experience, the film seeks to reveal a larger more complex portrait of our shared humanity."
source: theeldersfilm.com



---
AGING WITHOUT CHILDREN - WHO PROVIDES CARE?
MORE AMERICANS AREN'T HAVING CHILDREN, AND MANY WORRY ABOUT ELDER CARE
Produced and Directed by: Trading Places: Caring for Your Parents Series" NBC News.
"I'm a 63 year old female healthy, single, with no children.
Who cares for folks like me as we age?"

source: msnbc.msn.com
"Barbara Meltzer is a busy professional. Unmarried, she's never had children. And as she gets older, she fears that might put her in quite a predicament. 'I realized that I don't have anybody to help me,' Meltzer says. And as caregiver to her 90-year-old mother, Meltzer knows how important 'help' can be. 'I take her out to lunch or breakfast, and I have to take her out to all the doctor appointments and haircuts,' Meltzer says. Meltzer's fear is that there will be no one there for her when her time comes. 'I look at my mom, and I see all the possibilities for my future,' she says. 'I am looking at one of my greatest fears.' But her situation is not as unusual as you might think. 'More and more baby boomers are childless, and so they are facing old age without really a family to care for them,' says John Rother, policy director for AARP."-nbcnews.com
---
GROW OLD ALONG WITH ME
Produced and Directed by: Old Dog Documentaries. Aired on PBS.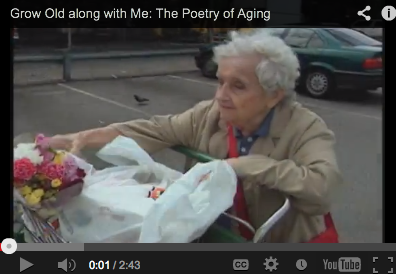 "Julie Harris, Richard Kiley, Hume Cronyn, and James Earl Jones are a delight as they recite poetry about aging and talk about what getting old is like for them. Artists Frederick and Claske Franck, opera singer Shirley Verrett, ninety-year-old photographer Leni Sonnenfeld, and Buddhist nun Pema Chodron see aging as a creative process that carries with it an opportunity for giving birth in later years to one's full humanity."

source: olddogdocumentaries.org
"With spirit and insight, these beloved artists and teachers show us it is possible to integrate all of the past–areas that have gone unfulfilled, failures as well as successes. They show us how to adapt to the changes taking place in our bodies, in our relationships, and in the circumstances of our lives. Dealing with loneliness, accepting the reality of death, they give us encouragement to face our fears. Letting go of the past, settling into life as it is, they hel us embrace the people we have become. We learn just how creative this journey through old age can be, as we are inspired to make that critical shift from life-as-a-burden to life-as-a-joy."
source: olddogdocumentaries.org
---
LIFE STORIES: AGING & THE HUMAN SPIRIT
Produced and Directed by: Old Dog Documentaries.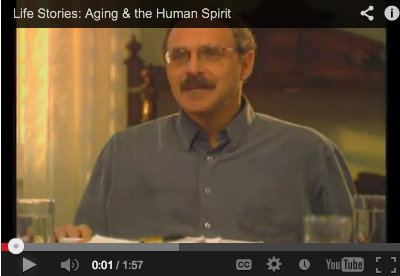 "This video documents a group of senior citizens in Galveston, Texas, who gather twice a month to 're-member' their lives through poems and stories."

source: olddogdocumentaries.org
"Life Stories opens up the creative process for a group of older people who are willing to turn off the soaps and sitcoms and begin the adventure of writing down their lives. 'This workshop gave me permission not to worry about whether the writing was good enough. This wasn't college. It wasn't 'should, ought. We had the freedom to write whatever we wished.' " -olddogdocumentaries.org
---
THE CENTENARIANS: EMBRACING THE COMING OF AGE
Produced and Directed by: Kris Kerehona, The Australian Association of Gerontology.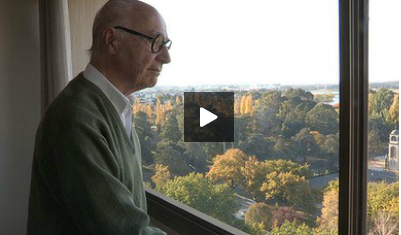 " 'The Centenarians: Embracing the Coming of Age' documents the stories of five of Canberra's longest-lived citizens.'
media.canberratimes.com.au
---
LIGHT YEARS
Produced and Directed by: Claire Marie Panke.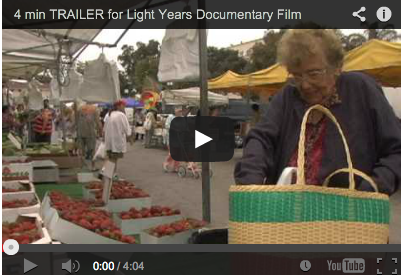 "You're creating yourself over again by saying oh, I used to be a poet, I used to be a dancer, I used to be an actress. I'll always be a mother, and the idea is to use yourself as best as you can."
-Anita
source: Film: Light Years
"This is the heartbeat of Light Years: the choice to remain engaged in community, to continue learning, giving back, and growing as we grow older. We're at an extraordinary turning point as the over-65 population around the world swells to unprecedented numbers, welcoming into its ranks over 77 million baby boomers who want to know the good news about getting older. " -lightyearsfilm.com
---
DOCUMENTARY:AGING IN AMERICA: THE YEARS AHEAD
Directed by: Julie Winokur.
"'Aging in America: The Years Ahead' is a journey across the topography of aging in search of what it means to have a 'good old age.' This film traverses the experience of our elders from the wellelderly to the elderly, as told through a series of intimate vignettes of people who are living the new old age. Through their stories, we laugh and cry as they celebrate their freedom, apply their wisdom, and suffer the consequences of their bodies' limitations. This film and its companion book are the result of seven years of fieldwork by the internationally-acclaimed team of writer Julie Winokur and photographer Ed Kashi. They traveled across the country, collecting scores of personal histories that, when taken collectively, challenge the culture of aging in America." talkingeyesmedia.org
---
DOCUMENTARY:GROWING OLD
Produced by: Films Media Group.
"Solid, thought-provoking, and frequently poignant.... Raises issues that many citizens and politicians alike are often reluctant to face, but also ones that are becoming too pressing to ignore. Recommended."—Video Librarian
"Most people are unwilling to confront aging—even many seniors live in denial of it. Some fear losing their independence and autonomy, while others simply can't accept the graying of their hair. This program explores the varied landscape of aging in America, presenting the realities—physical, medical, emotional, and economic—of growing old in a youth-obsessed society. Whether they are well off in retirement, financially marginalized, in good health, or terminally ill, the film's participants provide moving and provocative commentary and raise several challenging questions. What exactly is the healthy way to grow old? Is age a disease to be battled or a beautiful stage of life to be embraced and celebrated? Perhaps most importantly, how can we reverse our society's neglect of the elderly?" source:Films Media Group
---
DOCUMENTARY:DO NOT GO GENTLY
Produced and Directed by: Melissa Godoy.
"What role does creativity play in the process of aging? How important is imagination to the experience of being human? What are the most inventive artists expressing at very old age? And why?"
"Leo Ornstein was still humming in his bed at the Santa Maria Nursing Home. Godoy and HD cinematographer Mike Bizzarri drove to Green Bay, Wisconsin in a snowstorm to attempt to rub elbows with this creative soul at 109. Ornstein died two weeks later, but he left a legacy and piles of manuscripts that may take decades to fully appreciate. Frederic Franklin, Arlonzia Pettway, Dr. Cohen, and the remarkable team at Arts for the Aging were all travelers on the road toward that question: What role does creativity play in the process of aging? How important is imagination to the experience of being human? What are the most inventive artists expressing at very old age? And why?"
source: donotgogently.com
---
DOCUMENTARY:A CALCUTTA CHRISTMAS
Produced and Directed by: Maree Delofski.
"A Calcutta Christmas (1998) is a film about a group of elderly Anglo-Indians living in a Home in Kolkata. I was moved to make this film after I visited and realised that many of the elderly residents felt a strong connection to Australia, yearning for their families who had emigrated there, even though they themselves would likely never visit. Theirs was a hidden world and yet still, some of them dreamed of Australia."
source: delofski.com
---
DOCUMENTARY:WHEN DID I GET OLD?
Produced By: WFYI.
"Are there things that we can do, both as individuals and as a community, to help minimize the rough spots in the aging process, and are there measures we can take to maximize the opportunities unique to our older selves, and to make our communities more elder-friendly?"
source: wfyi.org, Indianapolis
"Our retirement years: this is the time of life when people begin to refer to us (whether we like it or not!) as 'the elderly,' or as 'older adults,' or as 'senior citizens.' A lot of what happens to us during this time is good, and yet lots of people have lots to say about the "not so good" side of our so-called "golden years" as well. By traveling the state and looking at the lives of older adults in a wide variety of settings and situations, and through insightful conversations with a panel of leading experts, When Did I Get Old? Reflections on Aging Today explores the questions: Are there things that we can do, both as individuals and as a community, to help minimize the rough spots in the aging process, and are there measures we can take to maximize the opportunities unique to our older selves, and to make our communities more elder-friendly?"
source: wfyi.org, Indianapolis
---
DOCUMENTARY:CAN'T AFFORD TO GROW OLD
Produced and Directed by: Roger Weisberg for Public Policy Productions.
"Narrated by Walter Cronkite 'Can't Afford to Grow Old' gets at the heart of a heartbreaking reality."
"Elderly people, afflicted with Alzheimer's disease or the effects of strokes or other lingering disabilities, must exhaust their life's savings as well as the energies and emotions of their husbands, wives and children before the Government offers help and then only in the form of a bed in a nursing home."
source:nytimes.com
This film features several families eager to keep their elderly relatives at home, who have simply exhausted their physical and financial resources. Every year, up to one million Americans are forced into poverty by the cost of long-term care, and only then do they qualify for Medicaid, the state and federal health insurance program for the very poor. This cogent analysis of the impact of aging on America's strained health care system combines poignant human stories with informed testimony by lawmakers and public policy experts. The debate centers around whether the government or the private sector should ultimately pay for long-term care. We are shown innovative programs, one private and one publicly funded, that give seniors some options as they experience frailty in old age.
-filmakers.com
---